Simone Vass of Coerver® Coaching Preston represents Victoria at the 2017 Pacific School Games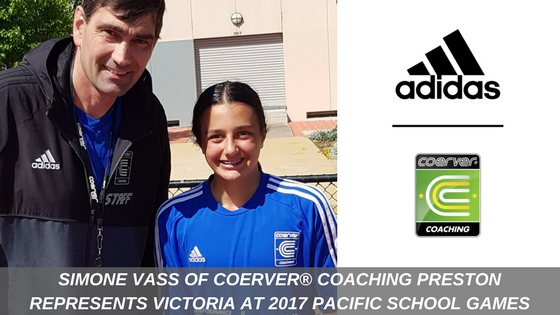 Coerver® Coaching Preston player Simone Vass recently participated in the 2017 Pacific School Games after being selected to represent the School Sports Victoria under-12 football team.
Simone travelled with the Victorian team to Adelaide earlier in December to compete in the 10th edition of the Pacific School Games, where they tied as overall winners with New South Wales.
Simone has been training with Coerver Coaching Preston for the past 4 years. In that time Simone has graduated to the Performance Academy program where in 2016 she won the Player of the Program award. Simone has also previosuly participated in the annual Coerver Coaching Australia Performance Camp held in Canberra, where players have the opportunity to be selected for the Coerver Select International Touring program.
Simone attributes her recent accomplishments to the skill and confidence she has developed at Coerver Coaching Preston, with the help of  her coaches (and Program Directors) Dieter Svoboda and Ben Monteleone.
"Coerver has been really good for my skill development especially passing the ball and decision making. When I started I trained with the boys and this helped me get better in games situations.
Ben and Dieter have been excellent coaches they always give me advice and encourage me to work on my skills.
Since becoming a member of the Performance Academy my confidence has improved and I now feel like I can compete with the better players.
I am very proud to have the opportunity to represent Victoria and could not have done it without the help of Dieter and Ben at Coerver and all the time they have put in to helping me improve my game".
Simone will travel to Canberra for the National Futsal Championships in January 2018 after being selected in the Victorian under-13 futsal team. 
From all of us at Coerver Coaching we congratulate Simone on her recent accomplishments and wish her all the best for the upcoming National Futsal Championships.