Regional Pathway already showing benefits

Henry Wilks from Moruya FC attended his first Coerver Coaching program when Coerver Coaching ACT went to the South Coast and ran a holiday camp hosted by Moruya FC in October 2018. At this camp Henry was selected as the player of his squad.  After his first taste of Coerver at this camp, Henry travelled to Canberra in January 2019 to attend the Coerver Coaching Asia Pacific Performance Camp where he was selected as the U13/14s player of the squad.
Henry Wilks from Moruya FC was outstanding during the Coerver Coaching Asia Pacific camp. He trained alongside players from across the Asia Pacific region ultimately gaining selection into the Coerver Coaching Asia Pacific Select tour to Spain in July 2019.
The Coerver Coaching Asia Pacific Performance Camp is an intensive 4 day training camp attended by players and coaches from around the Asia Pacific region. At the 4 day camp, players are given the opportunity to be selected in squads for international touring experiences.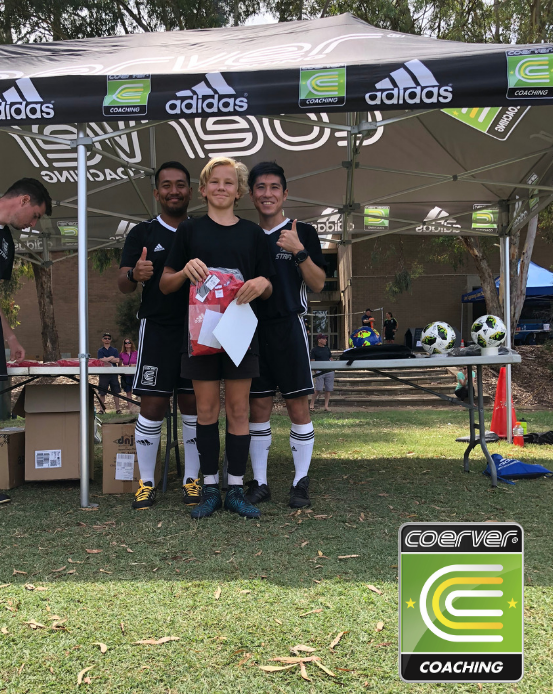 After impressing the Coerver Coaching staff at the Coerver Coaching Asia Pacific Performance Camp, Henry was selected to be a part of the Coerver Coaching Select Tour to Spain which includes participating in the Donosti Cup and visiting one of the world's largest clubs in Real Madrid. This includes a training experience at the official club facility in Madrid.  
Coerver Coaching ACT Technical Director Adrian Haynes said "Henry was identified quite early during his first Coerver Coaching experience as not only showing technical ability, but importantly in his willingness to listen and his desire to improve. Being coachable is a crucial element of being successful as a player in the long term. I look forward to seeing Henry continue his development and watching him perform at the highest levels in Spain."
Coerver Coaching ACT has made a long-term commitment to the players and families of the South Coast region and would like to see many more players like Henry have the opportunity to train and play at the biggest clubs in the world.
Coerver Coaching ACT looks forward to returning to Moruya in October for a 2 day camp on Saturday 26 and Sunday 27 October to work with the players from the South Coast region. If you would like to register for the Moruya October Camp please see the below link.
https://coerveract.com.au/courses/coerver-coaching-act-moruya-october-school-holiday-camp-2019
From all of us at Coerver Coaching ACT we wish Henry all the best for the upcoming Coerver Coaching Select tour to Spain.