Coerver® Coaching Australia caught up with former Coerver® Kid Marc Tokich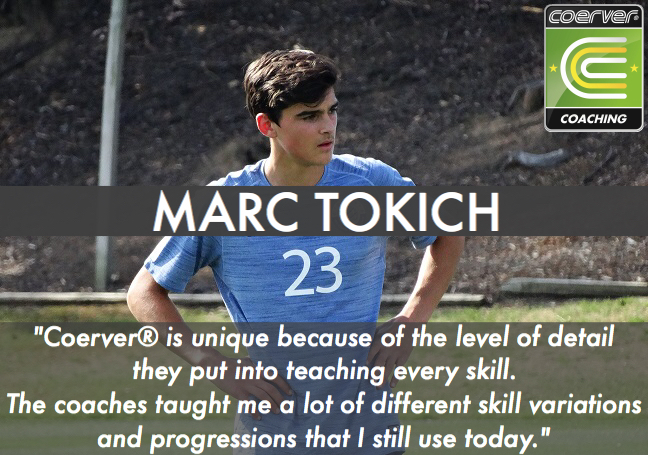 Coerver Coaching Australia caught up with former Coerver Kid Marc Tokich to get an insight into his experience growing up with Coerver Coaching.
2017 has been a year of achievements for the 18-year old Canberran. Marc was named the 2016-17 Foxtel National Youth League Player of the Year, graduated from the FFA Centre of Excellence program, signed his first professional contract with Western Sydney Wanderers FC, made his senior debut against Arsenal FC, and received call ups to the Young Socceroos (Australian U-20) squad.
Player Profile
Name: Marc Tokich
Date of Birth: 12 May 1999
Club: Western Sydney Wanderers FC (AUS)
Program: Coerver® Coaching ACT
CC. Can you recall your first Coerver® Coaching experience?
Well I remember that two of my older cousins were already apart of the Coerver Coaching Academy before I joined, and so I would sometimes come and watch them train and it always looked like a lot of fun. So then not long after that I joined the Program at about six or seven years old, and I remember I couldn't wait to get my very own Coerver Coaching kit and a ball.
CC. How did the Coerver® program improve your game and what is it that makes the Coerver® program so unique?
For me the Coerver program helped a lot with improving my skills set. The coaches taught me a lot of different skill variations and progressions that helped me improve my game and that I still use today. And I've found that the reason Coerver is unique is because of the level of detail they put into teaching every skill, allowing every kid to improve by adding fun games to them or progressions to keep the players wanting to learn more.
CC. What is it about Coerver® Coaching you enjoyed most?
What I enjoyed most was actually learning. Learning how to juggle, learning how to dribble better, learning new ball mastery techniques, and the list goes on. It was what always kept me engaged to improve as a player overall.
CC. What are some of your best memories from your time at Coerver® Coaching?
I would say something like the 1v1 and 2v2 tournaments we would play were always a lot fun and could sometimes get very competitive, which I liked. It was a chance to use the skills we learnt and to then try them out against your teammates so it was good fun. 
CC. Did you have a favourite Coerve®r Coaching ball mastery technique or move?
If I had to pick one I would pick the 'Cryuff Turn'. It's a simple move but is still very effective against an opponent, and I still use now. 
The Scissor and the Step-over were both classic Coerver Coaching moves that definitely deserve a mention too.
CC. What advice would you give to our young Coerver® players in our programs?
The advice I would give to young Coerver players in the program is to have fun. 
All of you share a passion for the game of Football in one way or another and that is why you are in the program, to learn about the game, to improve your own game, and to enjoy yourselves while you're doing it. So if you love and enjoy the game you will always find a way to train and improve your skills and football knowledge at training and even at home. My favourite thing used to be juggling a ball at home and everyday trying to get a new record.
CC. How has Coerver® Coaching prepared you for your current football pursuits?
Coerver Coaching has prepared me in many ways for my current football career. It's given me the foundation of the important skills of football. For example, simply learning how to juggle a ball on both feet has given me a very good first touch on both feet and also close control of the ball.
CC. What has been your career highlight to date?
Making my professional debut for the Western Sydney Wanderers FC was a very big moment for me, and to add to that it was against Arsenal FC. I got the chance to play against players that have won FIFA world cups, and players that I have looked up to for many years. It was an awesome feeling.
We're incredibly proud of Marc's achievements and are looking forward to following his football journey.